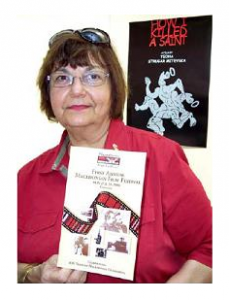 Virginia (Ginny) Evans has been involved in the arts for many years. She ran Theater Five, an amateur theater group in North York for 13 years and then became involved with the Macedonian community by assisting the producer and director, John Evans with the two Oro Makedonsko presentations which took place at Roy Thomson Hall and the Metro Convention Centre.
After initiating a film event for the Canadian Macedonian Historical Society she succeeded in bringing Milcho Manchevski and his film DUST to Toronto for a fund raiser. She continued with film presentations for a couple of Canadian Macedonian filmmakers through Canadian Macedonian Historical Society. The overwhelming success of these events led to the formation of the Macedonian Film Festival in 2006.
While being involved with the Canadian Macedonian Historical Society as a director and a co-President, she also initiated the establishment of bringing in books from various countries that are published in English about Macedonian subjects. There is little opportunity to learn about our literature, history and roots if you are unable to read Cyrillic, or are 2nd or third generation Canadian. She organized book launches of books written by academics like Professors Christina Kramer and Andrew Rossos, and numerous others. The BOOK LIST has been a resident of the Historical Society website for some time, until it was decided to make it available separately.