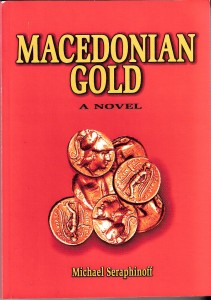 by Michael Seraphinoff
Pg: 182 Tpb
© 2004
Price: $15 CAD/USD$11
"What if" is the beginning of the creative process as there is a degree of possibility, no matter how minuscule. Seraphinoff's book is fiction, though based on a historical certainty: The tomb of Alexander the Great has never been discovered. But suppose an archaeological dig discovered it in Macedonia, and not Greece?
An anthropologist from an American university joins forces with a Macedonian team to delve into the discovery. Seraphinoff embellishes the storyline with authentic details about Macedonian culture. The reader is carried along with the plot while getting a healthy dose of history for this part of the Balkans.
Mysterious and ancient cults, a strange language spoken by a particular segment of the population make this a fascinating story. The history is easily digested as familiar surroundings in Macedonia are mentioned. And even if you know nothing about Macedonia and its history, and just love a good mystery, you will enjoy this novel.