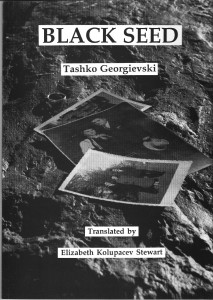 Tashko Georgievski
(translated by Elizabeth Kolupacev Stewart)
113 pages ©1994
Tpb        ISBN 0 9586789 01
Price:  CAD $18   US$14

Black Seed is one of the great political and humanistic novels of contemporary Macedonian literature. It is one of the few books that examine life in the Greek prison camps during the Greek Civil War, providing a rare insight into a period when the State sponsored persecution of political dissidents and ethnic minorities, particularly Macedonians, was at its most intense.
Written in a direct and succinct style, Black Seed is a story of courage, compassion and truth which is universal in meaning. It was made into a successful film, and has been translated into a number of European languages.
Tashko Georgievski is one of Macedonia's leading contemporary authors. The book concludes with an article on Georgievski by Mateja Matevski, who discusses the theme of "returning", common in Georgievski's books.