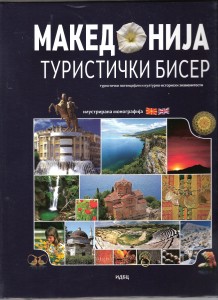 by Krste Savevski, Editor-in-chief
Hardcover  –  564 pages   ONLY ONE LEFT!!

NEW Price: $80 CAD           USD $55

A Coffee Table book with over 560 pages about the various tourist areas and regions in Macedonia. Every region is presented with its geographical tourist values, cartographical and geographical contents of the region, including 4-colour photographs of the various mountains, valleys, rivers, lakes, springs, spas, archaeological sites, towers and fortresses, etc.
This coffee-table book includes photo illustrations, therefore a reader has an opportunity to not only read about the various areas, but also visually get acquainted with the treasures and beauty of Macedonia, including its tourist potential and cultural historical landmarks.